Online Gambling in the Philippines
The Philippines is an interesting market for online gambling. The country is divided into two distinct regions for gambling purposes. First, there's the majority of the country in which gambling is tightly controlled by the state-owned Philippine Amusement and Gaming Corporation (PAGCOR). PAGCOR operates all land-based casinos, and betting outlets across the country.
Locals are welcome to play at approved PAGCOR locations and online for some forms of gambling. Filipinos can also visit any of the numerous PAGCOR betting terminals across the country and are free to gamble online at offshore websites.
The laws for online gaming in the Philippines are a bit odd. In both regions of the Philippines, it's illegal for any independent operator to offer online betting to locals. However, offshore providers with no connection to the Philippines may offer their services to the Philippines.
In short, there are two different sets of laws (or lack of laws) in play here. Citizens of the Philippines are not subject to any laws that ban online gambling. There was considerable debate on the legality of placing bets over the internet, but a court ruling in 2012 found that there was no piece of language in Philippine law that made it an offense to place bets. So, citizens are free to play wherever they want.
Operators must play by a whole different set of rules. Any online gambling site licensed in the Philippines is restricted from offering its services to Filipinos. This has created a situation in which PAGCOR has a monopoly on land-based gambling but is cut off from its own market online.
Cagayan Freeport and Online Gambling License
The second "region" is the Cagayan Special Economic Zone and Freeport which most people just call "Cagayan Freeport." This is the only area in the Philippines not under complete control of the PAGCOR monopoly. In the Freeport area, there are numerous independent casinos that are allowed to offer their services to tourists only.
Cagayan Freeport also acts as an online gambling licensing jurisdiction. In fact, it's the only such jurisdiction in all of Asia. A Filipino gambling license is hard to get and does not allow operators to accept wagers from Philippine citizens, but it's valuable nonetheless. A license there grants access to the greater Asian area, which is a booming and untapped market.
PAGCOR issues the licenses and monitors all existing licensees for compliance. Any limited company interested in getting a license can apply for one. The application itself costs $40,000 and then there's a $48,000 fee for the first year once approved. Licenses are renewed each year after that for $60,000 per year.
License holders can offer their services to anyone outside the Philippines and may take advantage of the country's highly developed internet infrastructure. The close proximity of the Philippines to the rest of Asia and its high level of development make it an attractive base of operations for any company interested in tapping the Asian market.
All game systems must be tested and approved, and the company must keep an adequate amount of cash on hand to cover all player balances. The licensing commission is strict on these rules, and it does a good job of enforcing the regulations.
If you are interested in more information about the licensing situation in the Philippines or the different regulations set in place you can always check out the website for the Philippine Amusement and Gaming Corporation. Also, if you want a direct answer on a specific question you can contact them through phone or email. All of this information can be found below:
Offshore Gaming License Application Procedures and Table of Fees
PHILIPPINE AMUSEMENT AND GAMING CORPORATION OFFSHORE GAMING REGULATORY MANUAL


Need Help in Registering Your Business in the Philippines?
BGC and Co. CPAs has registered hundreds of local and foreign companies in the Philippines. Our full spectrum of corporate services is guaranteed to help you enjoy a seamless business registration process.
BGC and Co. CPAs services include:
Registering the sole proprietorship with DTI
Securing local government registrations
Sourcing out the commercial space
Providing HR consulting and aid in drafting employee contracts
Recruitment and executive search
Outsourced accounting and bookkeeping services
Payroll services
Annual compliance
A sole proprietorship is a good way for an individual to set-up a business that will only participate in one or two primary objectives and have a very simple operation structure (e.g. small franchise, retail store). BGC and Co. CPAs can help you with the requirements and procedures to ensure the quick processing of your application and precipitate the commencement of your business.

BGC and Co. CPAs is a mid-sized progressive auditing firm providing comprehensive set of cost effective solutions to organizations like yours.
Our services include auditing, accounting, bookkeeping, business management, and HR consulting. Further, we provide other business services like VISA processing in Bureau of Immigration (BI), Philippine Retirement Authority (PRA).
We are equipped with state of art tools and techniques along with dedicated professional to evaluate potential opportunities and risks effective auditing and assurance services. We understand a value adding auditing and assurance service focus on scope of business improvement rather than merely preparing financial statements and reporting on figures.
The firm was formed to assist clients on the preparation of compliances relating to tax, financial management, forecasting and accounting software and system installation. Assist clients in tax investigations, internal auditing procedures and provide on financial, taxation, accounting and auditing matters when needed. Processing of business registration, cancellation / termination.
Our Mission
Deliver reliable cost effective professional services in time meeting specific customer requirements.
Our Vision
To become one of the best auditing and accounting firm in the Philippines providing the utmost satisfaction to all the clients. We would like to be known as one of the finest company to partnered with in all the aspects.
Our Team
Our teams of dedicated professionals led by senior qualified accountants are obliged to give you quality services which will enable you to serve your clients better and there by improve your business. We together with our associates enable to give you the best in the industry.
ABOUT OUR SERVICES
Auditing and Assurance
We are equipped with state of art tools and techniques along with dedicated professional to evaluate potential opportunities and risks delivering effective auditing & assurance services. We understand value adding auditing and assurance service focus on scope of business improvement rather than merely preparing financial statements and reporting on figures.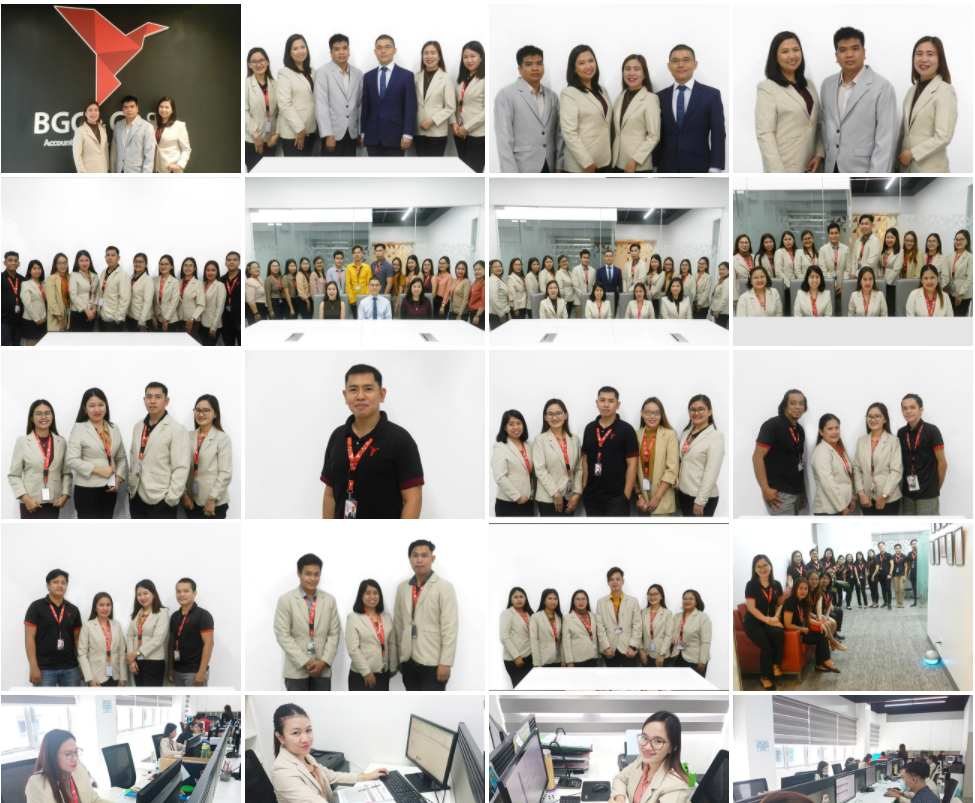 Our expertise in analyzing accounting systems, designing better systems with proper internal controls and management information reporting help our clients to adequately plan their business building strategy and give them the confidence to pace up with the rapidly growing economy.
Accounting and Bookkeeping
Accounting and bookkeeping is a necessity of every organization irrespective of its size. Our professionally qualified and experienced accountants understand and analyze business transactions and ensure compliance with the accounting standards. BGC has well trained staff familiar with many of the accounting system and most especially to the rapid changes in the BIR rules and regulations. Qualitative and timely accounting reports are crucial for the success of any business organization. BGC ensures relevant and reliable financial reports are delivered on regular intervals to assess performance and to facilitate decision making. Outsourcing of accounts department helps you to get professional expertise at lower cost and BGC provides the most efficient and effective bookkeeping solutions.
We assist you with below services:

• Accounts preparation and supervision
• Preparation and presentation of financial reports
• Bookkeeping services
• Payroll processing
• Training of accounting staff
Business Set-up and Termination
We do assist in setting up different types of business organizations through registrations to different government agencies such as:
• Securities and Exchange Commission (SEC);
• Bureau of Internal Revenue (BIR);
• Local Government Unit (LGU);
• Department of Trade and Industry (DTI);
• Social Security System (SSS);
• Philippine Health Insurance (Philhealth);
• Pag ibig;
• Food and Drug Administration (FDA)

We also assist our foreigner clients for the following:
• VISA extension;
• Bureau of Internal Revenue (BIR);
• 9g VISA;
• Special Resident Retiree's VISA (SRRV)
• Social Security System (SSS);
• Passport Renewal
SERVICES
CONTACT US
ADDRESS



7TH FLOOR, PCCI CORPORATE CENTER, L.P. LEVISTE ST., SALCEDO VILLAGE, BRGY. BEL-AIR MAKATI, PHILIPPINES 1209
Working Hours : 8:00 a.m - 5:00 p.m
PROFILE
AUTHORIZED INSTITUTION
菲律宾是一个有趣的在线赌博市场。出于赌博目的,该国分为两个不同的区域。首先,该国大部分地区的赌博都由国有的菲律宾娱乐和博彩公司 (PAGCOR) 严格控制。 PAGCOR 在全国经营所有陆上赌场和博彩网点。
欢迎当地人在经批准的 PAGCOR 地点和在线玩某些形式的赌博。菲律宾人还可以访问全国众多 PAGCOR 投注终端中的任何一个,并且可以在离岸网站上免费在线赌博。
菲律宾的在线游戏法律有点奇怪。在菲律宾的两个地区,任何独立运营商向当地人提供在线投注都是违法的。但是,与菲律宾无关的离岸供应商可以向菲律宾提供服务。
简而言之,这里有两套不同的法律(或缺乏法律)在起作用。菲律宾公民不受任何禁止在线赌博的法律的约束。关于通过互联网下注的合法性存在相当多的争论,但 2012 年的一项法院裁决发现,菲律宾法律中没有任何文字规定下注为犯罪行为。因此,公民可以自由地在任何他们想要的地方玩耍。
运营商必须遵守一套完全不同的规则。任何在菲律宾获得许可的在线赌博网站都不得向菲律宾人提供服务。这造成了 PAGCOR 垄断了陆上赌博但与自己的在线市场隔绝的局面。
卡加延自由港和在线赌博许可证
第二个"区域"是卡加延经济特区和自由港,大多数人称之为"卡加延自由港"。这是菲律宾唯一不受 PAGCOR 垄断完全控制的地区。在自由港地区,有许多独立的赌场只允许向游客提供服务。
卡加延自由港还充当在线赌博许可管辖区。事实上,它是整个亚洲唯一这样的司法管辖区。菲律宾赌博许可证很难获得,并且不允许运营商接受菲律宾公民的赌注,但它仍然很有价值。那里的许可证允许进入大亚洲地区,这是一个蓬勃发展且尚未开发的市场。
PAGCOR 颁发许可证并监控所有现有被许可人的合规性。任何有兴趣获得许可证的有限公司都可以申请。申请本身的费用为 40,000 美元,一旦获得批准,第一年的费用为 48,000 美元。之后每年更新许可证,费用为每年 60,000 美元。
许可证持有人可以向菲律宾以外的任何人提供服务,并可以利用该国高度发达的互联网基础设施。菲律宾靠近亚洲其他地区,发展水平高,对于任何有兴趣开拓亚洲市场的公司来说,它都是一个有吸引力的运营基地。
所有游戏系统都必须经过测试和批准,并且公司必须手头有足够的现金来支付所有玩家的余额。发牌委员会对这些规定很严格,并且很好地执行了这些规定。
如果您有兴趣了解有关菲律宾许可情况或现行不同法规的更多信息,您可以随时查看菲律宾娱乐和博彩公司的网站。此外,如果您想直接回答特定问题,可以通过电话或电子邮件联系。所有这些信息都可以在下面找到:
离岸博彩牌照申请程序及收费表
更新的离岸博彩费用表 Updated Offshore Gaming Table of Fees
对于有兴趣的申请人:
1. 离岸博彩牌照
2. 本地代理认证
3. 服务提供商认证
4. 诚信检查员认证
5. 游戏实验室认证
在菲律宾注册您的企业需要帮助吗?
BGC and Co. CPAs 已在菲律宾注册了数百家本地和外国公司。我们提供全方位的企业服务,保证帮助您享受无缝的企业注册流程。
想了解更多欢迎联系和咨询我们,中文 微信BGC998 电报@BGC998
更多延伸阅读