The Special Resident Retiree's Visa (SRRV) is a special non-immigrant visa for foreign nationals who would like to make the Philippines their second home or investment destination.
Benefits of SRRV:
1. Indefinite stay with multiple-entry/exit privileges;
2. Exemption from:
• Philippine Bureau of Immigration ACR-I Card (Annual Report)
• Customs duties & taxes for one time importation of household goods & personal effects worth up to US$7,000.00 Tax from pensions & annuities
• Travel Tax, if retiree has not stayed in the Philippines for more than 1 year from last date of entry
• Student Visa/Study Permit
3. Access to the Greet & Assist Program at selected Philippine airports;
4. Free subscription to the PRA Newsletter;
5. Discount privileges from PRA accredited Merchant Partners;
6. Free assistance in transacting with other government agencies;
7. Entitlement to PHILHEALTH benefits & privileges
SRRV application form. SRRV Application form must be duly filled and content must be type written.
Medical Certificate. Maybe secured from the country of origin. Document must be translated to English, and must be apostilled where the Certificate was issued. Applicant may opt to secure the Medical Certificate in the Philippines from any licensed physician/clinic/hospital. If the certificate has been secured in the Philippines, there is no need for any apostille. A Medical Certificate is only valid within 6 months from the date it was secured.
Police Clearance. Applicant must obtain police clearance from origin country or country of residence. Police Clearance Certificate must be in English language, must be apostilled where it was issued, and with 6 months validity.
NBI Clearance. NBI (National Bureau of Investigation) clearance is Philippine document. Applicant may obtain an NBI clearance after his 30-day-stay in Philippines from date of entry. NBI clearance certificate validity is 6-12months from date of issuance. An NBI clearance is not a substitute for apostilled police clearance.
Bank Certification from PRA Accredited Bank. The amount of the Visa deposit depends on the SRRV option that the applicant has chosen. In cases that an applicant will be joined by more than two (2) dependents, an additional visa deposit of US$15,000.00 for each additional dependent must be remitted under the name of the Principal applicant, except for former Filipinos under the SRRV Courtesy.
Original Passport with entry stamp in Philippines. An applicant whether Principal or dependent MUST BE in the Philippines during the processing of the SRRV application, with a Temporary Visitor's Visa (or Tourist Visa) valid for at least 20 working days in order for PRA and the Bureau of Immigration to accept the application for the SRRV. If Tourist Visa is less than 20 working days, the applicant must have it extended (with additional cost to the retiree which must be paid to the Bureau of Immigration). Other visas, except for the Balikbayan Visa which is issued to former Filipinos and their dependents, must be downgraded to a Temporary Visitor's Visa.
ID Photo. 12pcs of 2×2 size photo in white background & without eyeglasses.

BGC and Co. CPAs is a mid-sized progressive auditing firm providing comprehensive set of cost effective solutions to organizations like yours.
Our services include auditing, accounting, bookkeeping, business management, and HR consulting. Further, we provide other business services like VISA processing in Bureau of Immigration (BI), Philippine Retirement Authority (PRA).
We are equipped with state of art tools and techniques along with dedicated professional to evaluate potential opportunities and risks effective auditing and assurance services. We understand a value adding auditing and assurance service focus on scope of business improvement rather than merely preparing financial statements and reporting on figures.
The firm was formed to assist clients on the preparation of compliances relating to tax, financial management, forecasting and accounting software and system installation. Assist clients in tax investigations, internal auditing procedures and provide on financial, taxation, accounting and auditing matters when needed. Processing of business registration, cancellation / termination.
Our Mission
Deliver reliable cost effective professional services in time meeting specific customer requirements.
Our Vision
To become one of the best auditing and accounting firm in the Philippines providing the utmost satisfaction to all the clients. We would like to be known as one of the finest company to partnered with in all the aspects.
Our Team
Our teams of dedicated professionals led by senior qualified accountants are obliged to give you quality services which will enable you to serve your clients better and there by improve your business. We together with our associates enable to give you the best in the industry.
ABOUT OUR SERVICES
Auditing and Assurance
We are equipped with state of art tools and techniques along with dedicated professional to evaluate potential opportunities and risks delivering effective auditing & assurance services. We understand value adding auditing and assurance service focus on scope of business improvement rather than merely preparing financial statements and reporting on figures.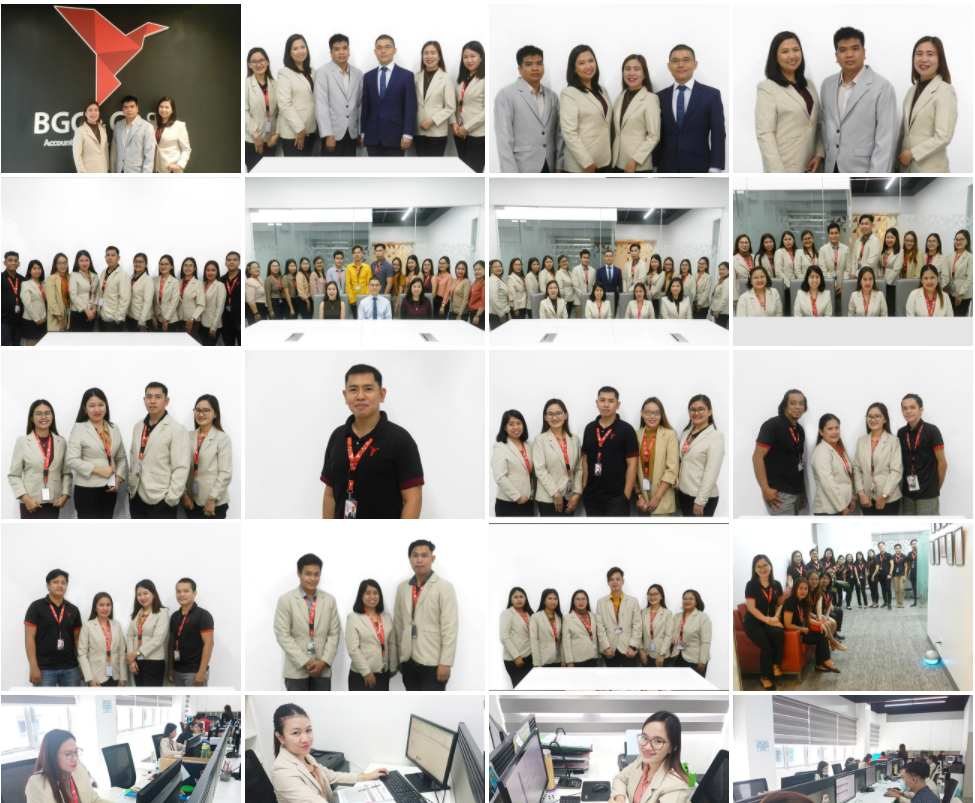 Our expertise in analyzing accounting systems, designing better systems with proper internal controls and management information reporting help our clients to adequately plan their business building strategy and give them the confidence to pace up with the rapidly growing economy.
Accounting and Bookkeeping
Accounting and bookkeeping is a necessity of every organization irrespective of its size. Our professionally qualified and experienced accountants understand and analyze business transactions and ensure compliance with the accounting standards. BGC has well trained staff familiar with many of the accounting system and most especially to the rapid changes in the BIR rules and regulations. Qualitative and timely accounting reports are crucial for the success of any business organization. BGC ensures relevant and reliable financial reports are delivered on regular intervals to assess performance and to facilitate decision making. Outsourcing of accounts department helps you to get professional expertise at lower cost and BGC provides the most efficient and effective bookkeeping solutions.
We assist you with below services:

• Accounts preparation and supervision
• Preparation and presentation of financial reports
• Bookkeeping services
• Payroll processing
• Training of accounting staff
Business Set-up and Termination
We do assist in setting up different types of business organizations through registrations to different government agencies such as:
• Securities and Exchange Commission (SEC);
• Bureau of Internal Revenue (BIR);
• Local Government Unit (LGU);
• Department of Trade and Industry (DTI);
• Social Security System (SSS);
• Philippine Health Insurance (Philhealth);
• Pag ibig;
• Food and Drug Administration (FDA)

We also assist our foreigner clients for the following:
• VISA extension;
• Bureau of Internal Revenue (BIR);
• 9g VISA;
• Special Resident Retiree's VISA (SRRV)
• Social Security System (SSS);
• Passport Renewal
SERVICES
CONTACT US
ADDRESS



7TH FLOOR, PCCI CORPORATE CENTER, L.P. LEVISTE ST., SALCEDO VILLAGE, BRGY. BEL-AIR MAKATI, PHILIPPINES 1209
Working Hours : 8:00 a.m - 5:00 p.m
PROFILE
AUTHORIZED INSTITUTION
想了解更多欢迎联系和咨询我们,中文 微信BGC998 电报@BGC998