Choosing the Right Investment Vehicle in the Philippines: Company Incorporation vs. Shelf Company vs. Staff Leasing
Foreign and local investors seeking to set up a business in the Philippines have three available investment options:
Company Incorporation
Shelf Company
Staff Leasing
The most common option for many investors is Company Incorporation. Though the startup costs are high and the setup process is lengthy (usually takes 4-6 months depending on the business entity), it grants the most freedom for investors when it comes to choosing the legal entity they want to engage business in. Incorporating also provides tax advantages and certain types of corporations can enjoy special tax incentives under Philippine laws.
Those seeking to immediately start doing business in the Philippines can purchase a Shelf Company. Shelf companies are fully-registered entities, so investors no longer need to undergo a lengthy setup process. Lastly, investors who want to test their potential for success in the Philippine market or intend to outsource certain job functions to take advantage of low labor costs can avail of Staff Leasing services in the Philippines.
Company Incorporation vs. Shelf Company vs. Staff Leasing: Which One Should You Choose?
Company Incorporation
Company Incorporation is the most common investment option for local and foreign investors in the Philippines. The setup process usually takes 4-6 months, and can be longer depending on the type of legal entity and the need for additional permits/licenses for some industries.
Additionally, the startup costs of incorporating a company in the Philippines is high. The initial costs include government registration fees, paid-up capital, application for permits and licenses (for regulated industries), office lease, and professional consulting fees (for those availing business consulting services).
Benefits of Incorporating a Company in the Philippines
Grants More Freedom for Investors to Choose
When investors incorporate a company in the Philippines, they have the liberty to choose the type of legal entity they want to register, as well as the amount of capital they want to contribute, the length of existence of the legal entity, the ability to raise money through the sale of stocks and other equity interests, easy transferability of shares, and many others. Some of these are not permissible for other investment vehicles, such as Shelf Company Purchase or Staff Leasing.
Greater Access to Capital
Company incorporation provides the opportunity to raise capital. Owners can raise capital through the sale of stocks and other equity interests, finding an angel investor, or obtaining investment from venture capitalists. All without having to accumulate debts or loan interests.
Access to Government Tax Incentives
Incorporating a company provides investors with tax advantages and greater flexibility in handling their company finances. Under local laws, specific types of corporations can enjoy special tax holidays and tax exemptions.
Long-Term Cost Savings
Since company incorporation provides the opportunity for tax reductions and raising capital without accumulating debts or loan interests, investors can significantly reduce their company expenses overtime.
Shelf Company
A Shelf Company is a fully-registered company with no history of operations. As its name implies, it has been "left on the shelf" to age. It doesn't have any assets, liabilities, products/services, profits, or manpower.
Shelf companies can be purchased by those seeking to start doing business in the Philippines in the shortest time possible. Investors can legally have their company immediately after finalizing the ownership transfer agreement.
Benefits of Purchasing a Shelf Company in the Philippines
No Longer Need to Undergo Company Registration Process
Shelf companies are already legally registered with their own corporate registration documents, Tax Identification Numbers (TINs), and business permits so investors can start operations immediately after purchase.
Lower Setup Costs
Since investors no longer need to undergo the registration process, their setup costs are significantly reduced. They only need to allocate money on the purchase of the shelf company, amending the registration documents, leasing/buying an office space, and obtaining additional permits/licenses (if they want to engage in a regulated industry).
Flexible Terms for Amendments
It is common for shelf company providers to offer flexible terms for amendments to their services. The amendments usually include the following:
Name change
Purpose change
Share transfer
Change of corporate officers
Others, if applicable
Take Advantage of Company History
Despite not having any history of commercial activities, a shelf company's age and clean records add credibility, which are highly beneficial for raising capital through the sale of stocks as well as entering bids to qualify for government tenders.
Staff Leasing
Staff Leasing is a business model where a client pays a leasing company to source, hire, and manage employees who perform work for the former. This business model is common for foreign companies seeking to outsource their administrative, customer support, IT, marketing, and other similar job functions to countries with lower labor costs like the Philippines.
If investors want to outsource work for long-term, they are advised to incorporate a local entity or obtain license for their foreign company to legally conduct business in the Philippines.
Benefits of Staff Leasing in the Philippines
Faster Setup Process
The setup process of a Staff Leasing arrangement is shorter compared to incorporating a company. The process usually takes 1-3 months, or shorter (depending on how soon the leasing company can place candidates).
Transparent Fees for Easier Budgeting
Leasing companies have fixed rates on their services, only charging clients for recruitment, workstation and equipment, office space, utility, and payroll processing. As such, investors are able to make clear assessments on the amount of capital they need to allocate for availing the services.
Flexible Lease Arrangements
Staff Leasing operates on a contract basis. Clients can freely choose the number of months or years they want to avail their services. The length of contract can be anywhere from 6 months to 5 or more years.
Dedicated Workflow Systems and Software Tools
Leasing companies in the Philippines have dedicated workflow systems and software tools, making it easier for clients to coordinate, monitor, and manage their leased employees. With such systems and tools at work, leased employees are also able to obtain the technical resources they need to perform their work efficiently.
Huge Savings on Labor Costs
Salary rates in the Philippines are more than 50% lower compared to many affluent Western countries, so foreign companies are able to save a significant amount of capital on labor expenses. This cost reduction also provides investors the opportunity to offer better benefits and employee wellness to their leased employees in the Philippines.
The Investment Vehicle Best Suited For Your Business in the Philippines
If you want to establish operations in the Philippines for long-term and have more control over your business operations and company finances, then Company Incorporation would be ideal for you.
On the other hand, if you want to conduct business in the Philippines within the shortest amount of time possible without having to undergo the often lengthy registration process, then Purchasing a Shelf Company is better suited for you.
Moreover, if you are hesitant on investing a huge amount of money and effort in setting up a business in the Philippines and are still in the process of deciding whether or not to set up long-term operations in the country, then Staff Leasing is the best option for you.
All three of the investment vehicles discussed have their own advantages and disadvantages. But ultimately, the vision you have for your business and the means you have for achieving them will determine your preference on which option to choose.

BGC and Co. CPAs is a mid-sized progressive auditing firm providing comprehensive set of cost effective solutions to organizations like yours.
Our services include auditing, accounting, bookkeeping, business management, and HR consulting. Further, we provide other business services like VISA processing in Bureau of Immigration (BI), Philippine Retirement Authority (PRA).
We are equipped with state of art tools and techniques along with dedicated professional to evaluate potential opportunities and risks effective auditing and assurance services. We understand a value adding auditing and assurance service focus on scope of business improvement rather than merely preparing financial statements and reporting on figures.
The firm was formed to assist clients on the preparation of compliances relating to tax, financial management, forecasting and accounting software and system installation. Assist clients in tax investigations, internal auditing procedures and provide on financial, taxation, accounting and auditing matters when needed. Processing of business registration, cancellation / termination.
Our Mission
Deliver reliable cost effective professional services in time meeting specific customer requirements.
Our Vision
To become one of the best auditing and accounting firm in the Philippines providing the utmost satisfaction to all the clients. We would like to be known as one of the finest company to partnered with in all the aspects.
Our Team
Our teams of dedicated professionals led by senior qualified accountants are obliged to give you quality services which will enable you to serve your clients better and there by improve your business. We together with our associates enable to give you the best in the industry.
ABOUT OUR SERVICES
Auditing and Assurance
We are equipped with state of art tools and techniques along with dedicated professional to evaluate potential opportunities and risks delivering effective auditing & assurance services. We understand value adding auditing and assurance service focus on scope of business improvement rather than merely preparing financial statements and reporting on figures.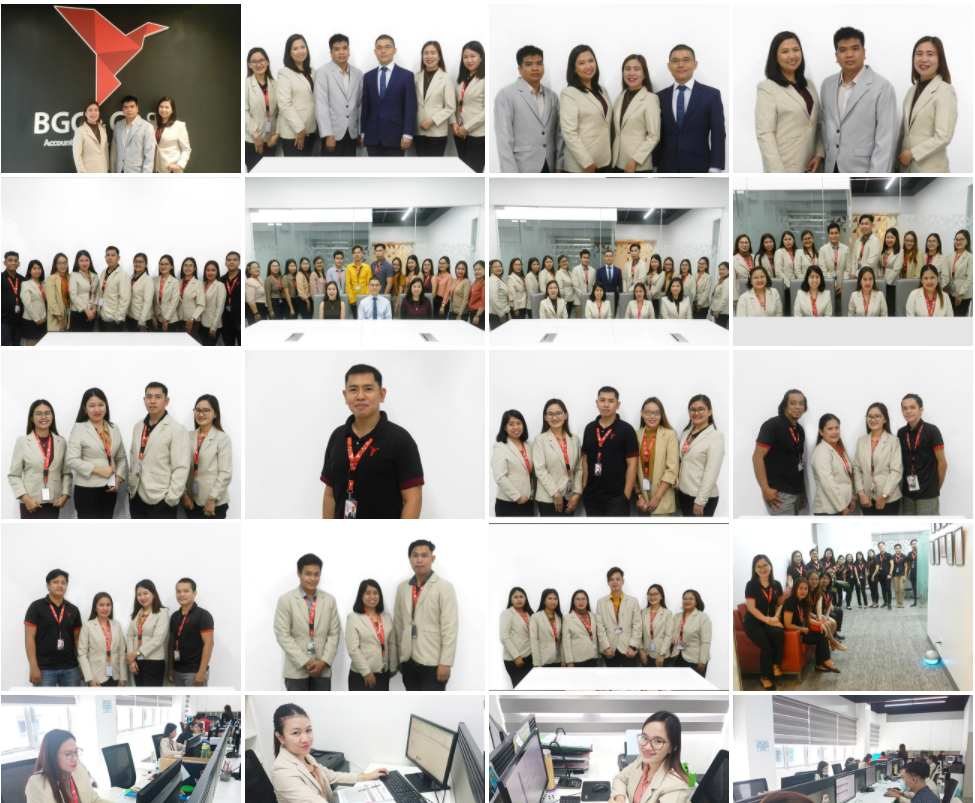 Our expertise in analyzing accounting systems, designing better systems with proper internal controls and management information reporting help our clients to adequately plan their business building strategy and give them the confidence to pace up with the rapidly growing economy.
Accounting and Bookkeeping
Accounting and bookkeeping is a necessity of every organization irrespective of its size. Our professionally qualified and experienced accountants understand and analyze business transactions and ensure compliance with the accounting standards. BGC has well trained staff familiar with many of the accounting system and most especially to the rapid changes in the BIR rules and regulations. Qualitative and timely accounting reports are crucial for the success of any business organization. BGC ensures relevant and reliable financial reports are delivered on regular intervals to assess performance and to facilitate decision making. Outsourcing of accounts department helps you to get professional expertise at lower cost and BGC provides the most efficient and effective bookkeeping solutions.
We assist you with below services:

• Accounts preparation and supervision
• Preparation and presentation of financial reports
• Bookkeeping services
• Payroll processing
• Training of accounting staff
Business Set-up and Termination
We do assist in setting up different types of business organizations through registrations to different government agencies such as:
• Securities and Exchange Commission (SEC);
• Bureau of Internal Revenue (BIR);
• Local Government Unit (LGU);
• Department of Trade and Industry (DTI);
• Social Security System (SSS);
• Philippine Health Insurance (Philhealth);
• Pag ibig;
• Food and Drug Administration (FDA)

We also assist our foreigner clients for the following:
• VISA extension;
• Bureau of Internal Revenue (BIR);
• 9g VISA;
• Special Resident Retiree's VISA (SRRV)
• Social Security System (SSS);
• Passport Renewal
SERVICES
CONTACT US
ADDRESS



7TH FLOOR, PCCI CORPORATE CENTER, L.P. LEVISTE ST., SALCEDO VILLAGE, BRGY. BEL-AIR MAKATI, PHILIPPINES 1209
Working Hours : 8:00 a.m - 5:00 p.m
PROFILE
AUTHORIZED INSTITUTION
想了解更多欢迎联系和咨询我们,中文 微信BGC998 电报@BGC998
想了解更多欢迎联系和咨询我们,微信BGC998 电报@BGC998
更多推荐阅读: